Discover more from Chinese Characteristics
Chinese tech longform analysis
Over 18,000 subscribers
Livestreaming monetisation models
What do camgirls have in common with Twitch streamers?
Welcome to the 27 new subscribers! I write a longform analysis about tech in China from the perspective of a 🐢 VC, sent out every Wednesday (though late this week since I was travelling).
Essay abstract 
Two systems of livestreaming monetisation

What do camgirls have in common with Twitch streamers?

Livestreaming DTC versus Livestreaming aggregators

4 predictions for the future

Bonus: By the end of this article you'll understand why Walmart bid for TikTok
In many ways, the internet was made for livestreaming. Starting with Jennicam back in 1996, it has taken the medium a while to get to the fabled plateau of productivity.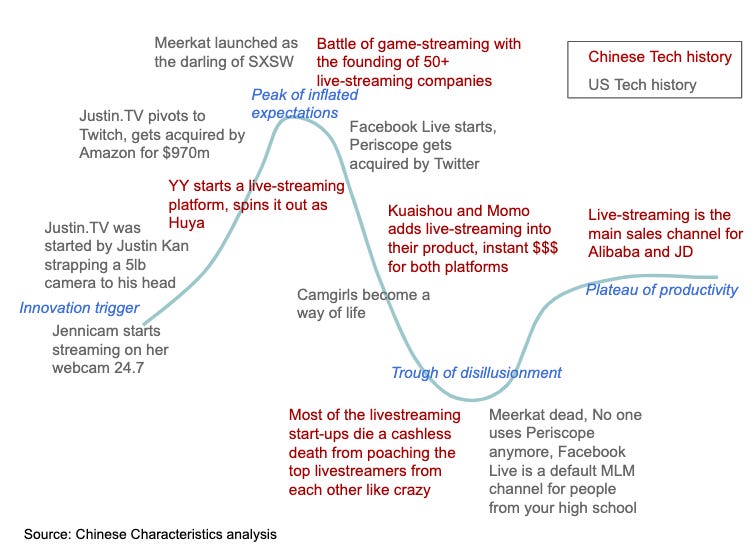 Livestreaming in its genesis of Twitch, Meerkat, Periscope and Facebook Live never fleshed out a compatible monetisation model. As a result, it struggled with marketplace supply-side liquidity since livestreaming hosts weren't incentivised to stream consistently. Viewers then stopped watching as there was no guarantee of good content on the platform. Livestreaming only became a medium after the emergence of effective monetisation, as then creators had the incentive to keep to a regular broadcasting schedule for followers.
Bolstered by Covid-19, livestreaming is now ubiquitous in China and increasingly mainstream in the west. The Chinese market is estimated to be worth RMB 433.8 billion ($64.2bn USD) in 2019 and is expected to double by the end of 2020. Twitch currently has 6.2 million monthly broadcasters, and games livestreaming as an industry is estimated to be worth $50bn. Livestreaming has created massive stars; on Twitch, Ninja the Fortnite streamer has ~7m fans and even higher earnings. In China, Li Jiaqi the 'Lipstick queen' sold 15,000 tubs of lipstick in 15 minutes on Taobao. Viya, who is essentially Oprah incarnated as a livestreamer, can command 37m viewers (bigger than the audience for the Oscars or Game of Thrones finale) during a stream. These big numbers are representative of the digitalisation of distribution and entertainment that's been quietly occurring throughout the world. The fact that livestreaming has become their de-facto medium owes much to the unlocking of effective monetisation strategies.
Livestreaming as a medium is a conflation of a product as well as as a distribution channel. It exists on a spectrum of being pure entertainment on one-side and a new go-to-market strategies on the other, with different kinds of monetisation models for each side. While western startups have centred around the 'livestreaming as product' theme, China, with its enabling infrastructure in payment and fulfilment, have been quick to adopt livestreaming as a new distribution channel. This June's 618 Shopping Festival, saw Alibaba and JD.com report a combined total of $136.5 billion of livestreaming sales. Kuaishou surpassed 170 million daily active livestreaming shoppers in June and Pinduoduo also wants its ~500m users to start streaming as well. No longer just for small ticket items - houses, cars, phones have all been sold during the lockdown, livestreaming is climbing up the value chain.

Of course, it's not a binary split for companies; Kuaishou, Bilibili and TikTok has attributes of both categories.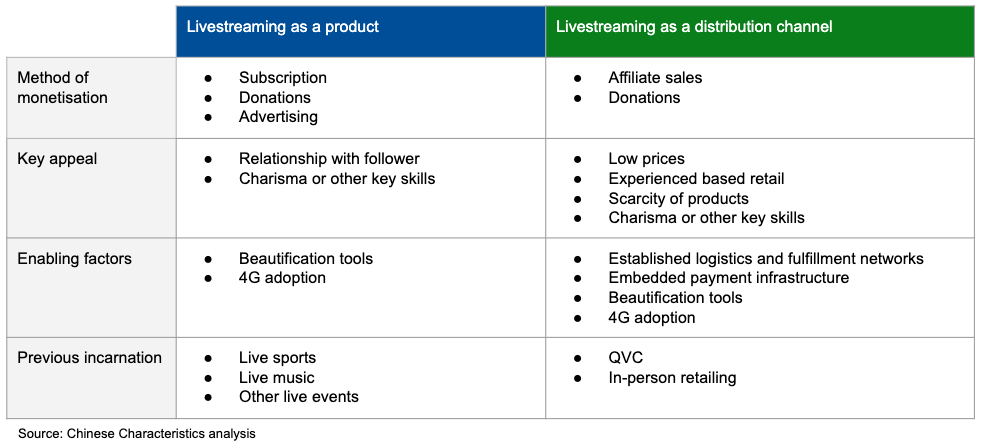 'Livestreaming as a product' monetisation strategies
What do camgirls have in common with Twitch streamers?
A lot. They (and almost every other 'product' livestreamer / creator ) use the same techniques to monetise their fanbase. This is because 'livestreaming as a product' is ultimately reliant on monetising the trust between followers and creators, the higher that trust, the higher the payout. Kuaishou earns a significant amount of its $7.6bn revenue from livestreaming rather than advertising, since it's geared towards building trust and engagement between creators and followers. It shouldn't be a surprise to learn that the inverse is true for its nemesis TikTok (read more from last week's product design piece to learn why).
The three sources of revenue for 'product' streamers are donations, subscriptions and advertising. The bulk of earnings comes from in-platform currency donations that users buy with money or donate directly to the streamer. Platforms have different take rates of these in-platform donations (Kuaishou has 50% while Twitch has ~20% take rate) and the rest goes to the creator. The act of donating in-platform triggers a positive engagement mechanism between the creator and viewers, and amongst viewers themselves. By which I mean, creators can get instant feedback on their actions from their viewers, while the viewer also elevates themselves before other viewers by donating to the creator. Creators harness this dynamic to garner more donations through competition and collaboration, such as having a callout for the top donors or setting a target donation level for the session (upon the achievement of which they'll complete some action pleasing to the viewer, such as a dance).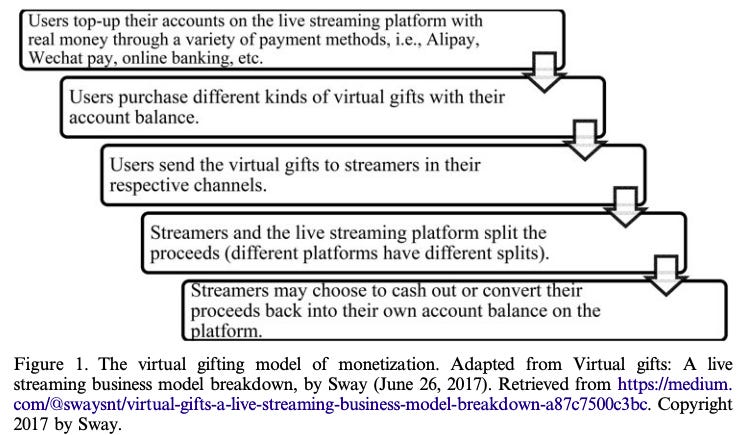 A subscription is an investment in the creators' future actions while donations are rewards for what they are doing now. The stronger the fanbase, the higher the subscription income a streamer has. This model is mostly offered by western platforms, probably to compete with Patreon, I'm curious to see whether this model would take off in China (there's only limited adoption so far). Given the lack of SaaS adoption in China, maybe not. (Sidenote: I'm very curious about the churn + upsell profile of subscriptions aka micro SaaS if any streamer wants to share their data. I'm at lillianli@substack.com).
Advertising is prominent on western streaming platforms since their parent companies are advertisers - Google (Youtube), Facebook, and Amazon media (Twitch). Most Chinese platforms that value community and trust tend to not focus on this revenue stream since adverts deters the viewing experience. We can see the revenue split for the two big Chinese esport livestreaming platforms for H1 2020 below, advertising makes <8% of total revenue and most are placed in the professional esports tournament streams.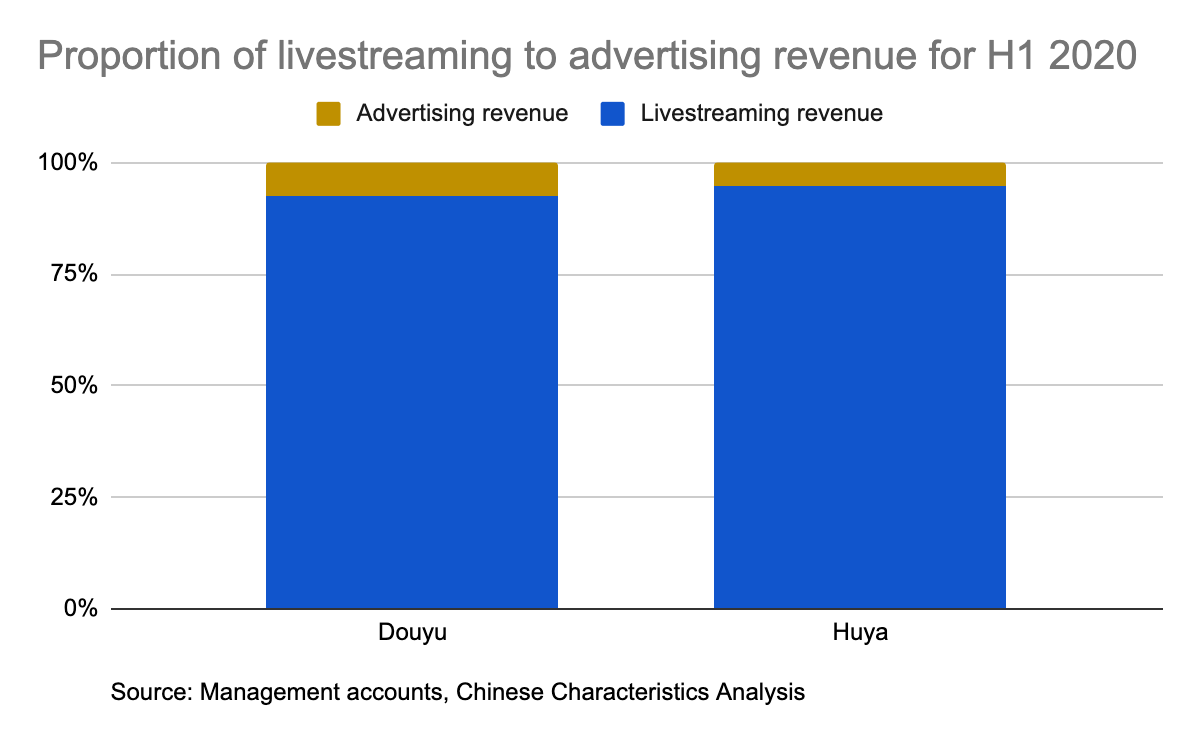 For further readings on this topic, I recommend Aella's classical 2018 article on camgirl techniques as well as an academic review of Twitch livestreamer's strategies. Sway's 2017 medium article goes into details on the pros and cons of each monetisation approach.
'Livestreaming as a distribution channel' monetisation strategies
This is what an e-commerce livestream looks like on Taobao: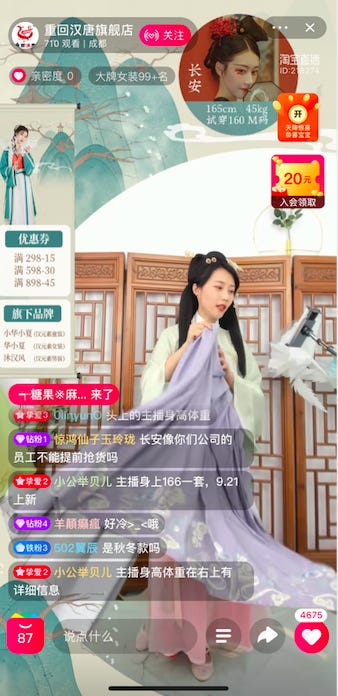 The livestream host is showing off the new skirt while reading comments from viewers about how the clothes will fit on different frames. Clicking on the basket sign takes me to a check-out while the stream is still on-going in a mini window.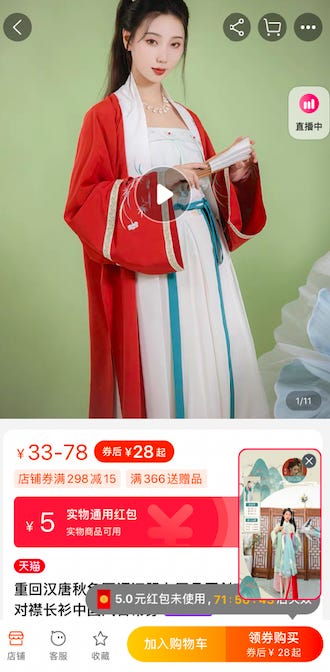 It's a digital age QVC but with the added FOMO that the other thousand viewers could buy out the stock before you get there. Driven by a fear of counterfeit goods and a demand for experiential retail, viewers love the instant gratification of seeing the product in action then immediately buying it. The backdrop to the buying frenzy is a holistic e-commerce ecosystem, complete with payment and fulfilment solutions, that allows three tap check-outs mid-livestreams and one-day deliveries. And crazy beautification tools. 
Detour on beautification tools since they are insane. 
The format of these shows vary, some are daytime talk shows while others are timed-limited selling sprees. The livestream host will always spend time introducing a product to the audience, responding to their live chat questions before counting down to the sales. A typical show lasts for 3-4 hours and livestream hosts will broadcast daily to engage and grow their followings.
Behind the scenes, there are two ways brands can engage with this distribution channel, which are also different go-to-market strategies (what I call the Livestreaming Direct-To-Consumer versus Livestreaming Aggregator approaches). The livestreaming DTC route is a vertically integrated process where the livestream hosts are full time employees or owners of the brand itself. The hosts will stream regularly as part of their job for the brand on different platforms. The livestreaming aggregator route is where brands work with a multi-channel network (or MCNs, who are influencer agencies) who will negotiate on behalf of their livestreaming clients. The agreements typically involve an upfront non-refundable fee (which varies depending on the fame of the livestream host), a discount rate and stock level for the product to be sold, a percentage take-rate of the topline sales by the host and a guaranteed minimum return threshold for the goods (one common pitfall is goods sold during livestreamings often have high return rates and associated return fees). These two strategies are akin to selling wares on your digital shop versus selling it on Groupon.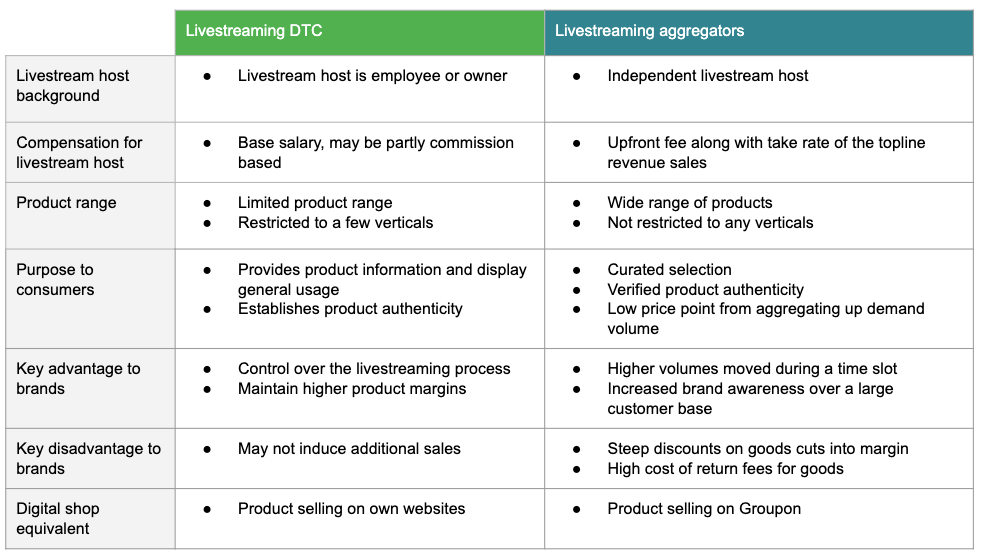 Livestreaming DTCs is well documented in Connie Chan's posts ( the video first of commerce, e-commerce as video killer app.) The majority of the livestreaming hosts on Pinduoduo, Kuaishou and Taobao are DTC hosts. I would argue the crazy volume we've been seeing recently are all from the rise of the livestreaming aggregators such as Viya and Li Jiaqi.
The common misconception about livestreaming aggregators is that it's reliant on the sales skills and brand of the livestream hosts. Instead, the business model is still based on the traditional retail premise of selling good quality products at low prices. The livestreaming host is the trusted curation channel for the buyer which is important in a low trust retail environment rife with counterfeits, but they are not a stand-in for the products themselves. The host functions as a demand volume aggregator which enables them to command lower price goods from brands (there are references to them being the human Pinduoduo, which is true). Brands want to engage with hosts since they could drive large volumes of sales quickly. The lower the price that the hosts can command, the more followers they will attract and the more bargaining power they can have with brands. Anyone familiar with Ben Thompson's work can see that the top e-commerce livestreamers are a form of aggregators - they have the relationship with the audience, they bear no shipping or fulfilment costs and brands have become commodified. As a result, livestreaming aggregators have a significant moat once they have built up their following.
---
Based on the livestreaming trends in China, here are my predictions for the future:
Prediction 1: 1 to 1 face-off competition is coming
The most popular feature right now on Kuaishou is the face-off feature between two livestreamers while their fans support them via donations for supremacy. 
Jeremy Zorn, SVP of Product at The Meet Group explained in an interview, "PK or Battles are essentially real-time competitions between streamers, where the winner is decided by the viewers: whichever streamer earns more virtual currency from the audience during the battle is declared the winner. During the battle, streams are combined such that both audiences can see both streamers at the same time. Neither one is the "host", and each one brings their own audience."
This trend of beefing for cash is well known in both the rap industry and also the camgirl community (see Aella's article above). Supporting your idol through spending money is well-trodden in the east, but given its juicy potential for racking up more donations, I'm sure it's not long before the US platforms also introduce this feature.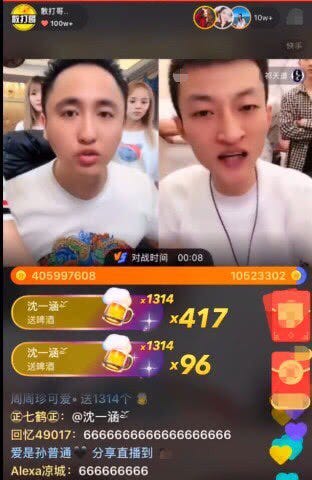 Prediction 2:The players who own the logistics and fulfilment structures will be the winners for e-commerce livestreaming
As I mentioned above, the significant enablers for success in China have been the embedded checkout and fulfilment process. Viewers can buy without leaving the stream with 3 clicks (this is why it made sense for Walmart to bid for TikTok). The winners in the race for the west will exhibit similar characteristics. 
Also sort of bonus prediction, Shopify will move into livestreaming.
Prediction 3: The popular influencers of Youtube and Instagram will be the big winners of e-commerce livestreaming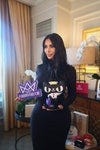 That's a very fuzzy Kim Kardashian West who, helped by Viya, sold 150,000 units of her KKW perfumes on Tmall's livestream. Those 150,000 bottles sold out in 1 minute and attracted over 13m viewers.
As livestream hosts exhibit aggregation effects, existing influencers with a following will have the advantage on e-commerce streaming. After Kim K's brushes with the process, I have high confidence that we'll see movings from the Klan in that direction soon.
Prediction 4: Regulation will come
There's a lot of shady dealing for livestreaming in both the US and China. Wired's recent article documented the unscrupulous dealings of streamer agencies in the US. In China, inflated volume in e-commerce streaming has been an ongoing concern. Business of Fashion notes:
"According to multiple sources interviewed by BoF, gaming the system to inflate the apparent success of livestream sales is common practice. MCNs work with millions of livestreaming hosts (especially those outside of the top echelons of the industry) to take the upfront fees from brands in exchange, for example, for a five-minute slot in an eight-hour livestream. The MCNs and hosts (or their proxies) then use those fees to purchase as much product as they can within the livestream sale, to inflate the sales volume. Then they return the maximum contractually allowable amount and offload any remaining products on third-party e-commerce sites."
Regulation is coming, especially in China where liverstreamer is now recognised as an occupation, but whether it will stifle or improve the industry is to be seen.
---
About the future of the newsletter
As a reader of the newsletter, I want to include you in a conversation I've been having with myself. I started this while waiting out the days to leave my hotel quarantine. I wanted to read analysis on Chinese technology that had depth, written by someone who understood China context.
I couldn't find any, so I started this myself.
I don't want this to be a vanity project; I want to make something that people will read and engage with. I initially told myself that if I get to 500 subscribers after 10 posts, I'll think seriously about how to continue.
So my ask is, if you think what I'm doing is valuable, please subscribe! Thanks! 
---
Edited on 17th September 2020 to update and clarify Twitch platform take-rate. Thanks to readers Wika and ProudCicada for pointing this out!